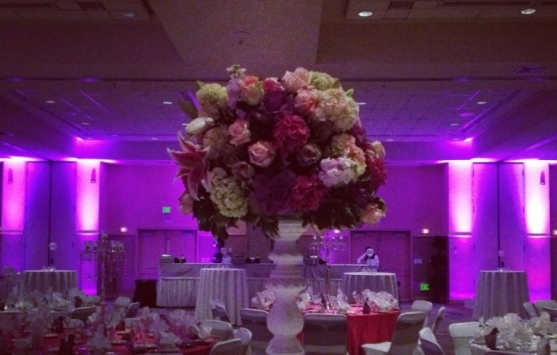 Congratulations on your engagement!
Thank you for considering Audio Ecstasy for your wedding needs.  Weddings are a once in a lifetime moment, and we understand that you only want your wedding to be absolutely perfect.    If your big day requires simplicity, elegance, and romance, or even an extravagant, eclectic look and feel–Our team will work with you and your hired professionals to create a wedding that matches your vision.  Attention to the detail is what sets us apart from the rest.  We never show up to an event and "wing it."  Planning and coordinating your reception over every important detail is crucial for a fun and stress free wedding. We want our clients to have a wedding that looks and feels like no other, and want your guests to have the time of their lives celebrating this meaningful occasion with you.
All our wedding services are tailored specifically for your event.  Each wedding package comes with:

A professional MC/DJ

5 hours of non stop service

A wide variety of music to suit any need.

Unlimited phone & email consultations
Staff
2016-09-19T00:02:11+00:00
Wendy & Jeff had their reception at the Oceano Hotel in Half Moon Bay, Ca. […]
Staff
2016-08-11T00:05:02+00:00
Karen & EJ held their reception at the Canyon View Golf Course in San Ramon, […]
Staff
2015-08-14T20:34:48+00:00
The second half of the 8th took us to Mountain View, Ca, for Kevin & […]
We offer a variety of packages that will compliment any wedding from small and intimate, to large and extravagant.
Standard Package
5 hours of service
Professional DJ & Assistant
Professional Sound System
Standard Dance Floor Lighting
Dinner Music Included
Upgraded Package
Everything in the Standard Package, plus:

Intelligent Lighting System
Enhanced Introductions & Highlighted Program Events
Lighted DJ Facade
Lighted Truss Columns
Collaborate with Event Planner
Travel, Setup, and Breakdown included
Media Package
Everything in the Upgraded Package, plus:

Two 50″ LED Flat Screen Monitors
Upgraded Intelligent Lighting System
Extra Sound System for Cocktail Hour
Custom Slide Show Displayed During Dinner
Custom Video Monogram displayed during program
Collaborate with Event Planner
Travel, Setup, and Breakdown included
We offer other services to fully customize your event
Wedding Coordination & Event Planning

Lighting Designs

Photo Booth Services

Personalized Monogram/Gobo

Ceremony Sound Reinforcement
Thank you very much for making our wedding perfect and fun. Everyone had really fun and our Bridal [Party] introductions turned out perfect. For sure, I will recommend you to my family and friends in the future!! Thanks again!!
THANK YOU GUYS SO MUCH! You and Genesis did such a great job with the lighting and music.
Thanks for everything John and Genesis. The setup looked amazing! People were actually dancing and looked like they had a lot of fun. Great job on everything!
10 thumbs up to the folks at Audio Ecstasy! They made my clothing release party memorable, and my birthday party nostalgic. Audio Ecstasy is exactly what we got!