We were fortunate to rock San Jose's Piedmont Hills High School Senior Ball this past saturday!  Their event was held in the huge Grand Ballroom at the Dolce Hayes Mansion in San Jose, CA.  Fitting, since the school had 500+ students that  partied the night away!  Their theme was "A Night Of Enchantment".  The prom committee wanted a feel of an enchanted forest, so we picked out a beautiful green color.  Check out our gobo wash patterns on the wall–it really helped to make this ball feel like an enchanted forest!  The gobo wash, coupled with a custom monogram and intelligent lighting made this place absolutely elegant.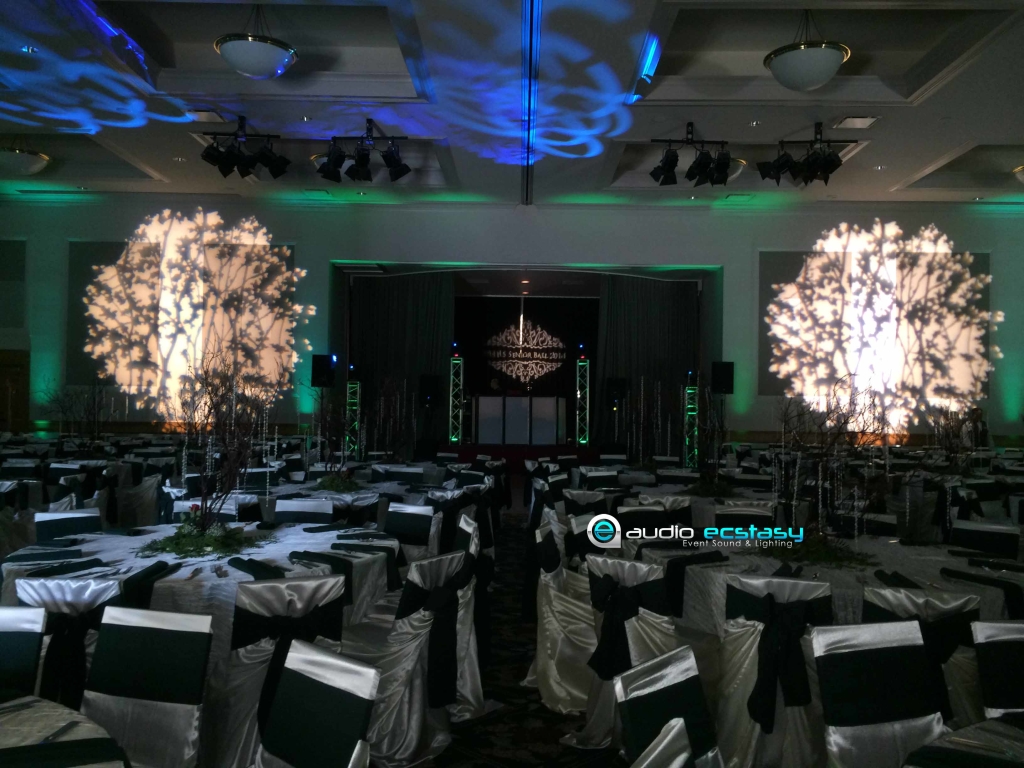 The dance floor was completely packed, from when dinner was over to the end of the night.  The energy in the room was just phenomenal.  This I know, PHHS can turn it up!
Downstairs held our LoveSnap Photo Booth.  The line for the photo booth was non-stop for 4 hours.  Our photo booth crew did a great job keeping the flow going, and making sure the guests were entertained and getting their pictures.
This was definitely an awesome night for us.  Thanks to prom committee and staff at PHHS.  Also thanks to the staff at Dolce Hayes Mansion–you all were great to work with.
Find out more about Hayes Mansion 
What we brought:
Four 15″ speakers
Two 18″ subwoofers
4 intelligent lighting fixtures
4 Truss Totems
2 dance floor lighting effects
25 uplighting fixtures
computer controlled light scenes (dmx)
2 professional gobo projectors with a tree gobo/monogram
1 professional gobo projector with custom monogram
our LoveSnap Photo Booth
Photo Booth backdrop
Here's a couple of short video's of our lighting set up and entertainment for Piedmont Hills Senior Ball!